The free audiobook of the month
IN HIS STEPS
FREE audiobook download for August
One hundred years ago Christians read Charles Sheldon's In His Steps with runaway enthusiasm. Sheldon's story traces the account of the fictional Reverend Maxwell who challenges himself and his congregation to constantly ask, "What would Jesus do?" This question puts all of life's circumstances in a new light. Those characters in Sheldon's book who take the challenge of this question seriously live dramatically changed lives. But a changed life responding to Jesus' example of compassion and grace does not always make things easier. People in Sheldon's story learn that acting like Jesus can alienate others who prefer status quo comfort and social respectability. The real challenge of the question, "What would Jesus do?" is not the initial fervor it evokes but the sustained devotion it can produce.
Related Audiobooks On Sale for $4.98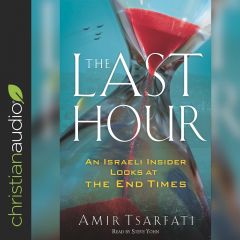 The Last Hour The Prophetic Imagination Gospel Treason
Is this really free? Yes! We periodically give away one PREMIUM audiobook absolutely FREE. You will need to be logged into your christianaudio.com account and be subscribed to the newsletter. Just come back each month and confirm that you want the audiobook and it will be added to your library and be available in the christianaudio Android or iPhone App.
I want a backup in My Library and to get it in the christianaudio app! This audiobook will automatically be added to your library/app when you log in and confirm that you want the free audiobook each month
How does it work? It's as easy as following the simple process above. You will be asked to log into your account or create an account (it's fast and free). Next we'll check to ensure you're on our newsletter list and then the audiobook will be added to "My Library"! If you're not already subscribed to our newsletter, you'll be required to confirm your newsletter subscription before the audiobook can be added to "My Library".
We're often asked how one can make a donation to our free book program ...if you'd like to support our free download of the month program, you can do so by buying this month's free book at a discount through the end of the month or by sharing this page with your friends!