The free audiobook of the month
THE CONFESSIONS OF SAINT AUGUSTINE
FREE audiobook download for September
Saint Augustine's contributions to Christian theology are second to no other post-apostolic author in the whole sweep of church history. Yet along side his doctrinal treatises, Augustine tells a story of his life devoted to Christ as his only satisfaction. The Confessions is at once the autobiographical account of Augustine's life of Christian faith and at the same time a compelling theology of Christian spirituality for everyone. Among the most important classics in Western literature, it continues to engage modern readers through Augustine's timeless illustrations and beautiful prose. Augustine's Confessions is a book to relish the first time through and then profoundly enjoy over a lifetime of revisiting.
Related Audiobooks On Sale for $4.98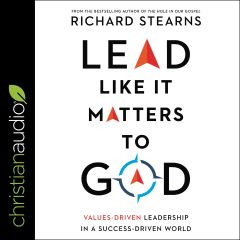 Lead Like It Matters to God Is It Abuse?
Is this really free? Yes! We periodically give away one PREMIUM audiobook absolutely FREE. You will need to be logged into your christianaudio.com account and be subscribed to the newsletter. Just come back each month and confirm that you want the audiobook and it will be added to your library and be available in the christianaudio Android or iPhone App.
I want a backup in My Library and to get it in the christianaudio app! This audiobook will automatically be added to your library/app when you log in and confirm that you want the free audiobook each month
How does it work? It's as easy as following the simple process above. You will be asked to log into your account or create an account (it's fast and free). Next we'll check to ensure you're on our newsletter list and then the audiobook will be added to "My Library"! If you're not already subscribed to our newsletter, you'll be required to confirm your newsletter subscription before the audiobook can be added to "My Library".
We're often asked how one can make a donation to our free book program ...if you'd like to support our free download of the month program, you can do so by buying this month's free book at a discount through the end of the month or by sharing this page with your friends!