The free audiobook of the month
THE NECESSITY OF PRAYER
FREE audiobook download for January
Edward M. Bounds' practice of prayer and writings upon the topic are like a hearty furnace, stoked and glowing brightly red. Now, others may gather around the luminance of that fire and warm themselves in the glow. The warmth which has spread to millions continues to produce heat and volcanic change.
Related Audiobooks On Sale for $4.98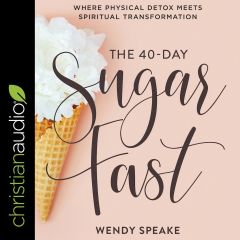 The 40-Day Sugar Fast The Bible from 30,000 Feet The Universe Next Door Sixth Edition
Is this really free? Yes! We periodically give away one PREMIUM audiobook absolutely FREE. You will need to be logged into your christianaudio.com account and be subscribed to the newsletter. Just come back each month and confirm that you want the audiobook and it will be added to your library and be available in the christianaudio Android or iPhone App.
I want a backup in My Library and to get it in the christianaudio app! This audiobook will automatically be added to your library/app when you log in and confirm that you want the free audiobook each month
How does it work? It's as easy as following the simple process above. You will be asked to log into your account or create an account (it's fast and free). Next we'll check to ensure you're on our newsletter list and then the audiobook will be added to "My Library"! If you're not already subscribed to our newsletter, you'll be required to confirm your newsletter subscription before the audiobook can be added to "My Library".
We're often asked how one can make a donation to our free book program ...if you'd like to support our free download of the month program, you can do so by buying this month's free book at a discount through the end of the month or by sharing this page with your friends!