The free audiobook of the month
THE WISE WOMAN
FREE audiobook download for May
A favorite author of C.S. Lewis, George MacDonald delivers another lovely tale in the story The Wise Woman. It is a story of two girls, one is a princess and the other a daughter of a shepherd; both are spoiled and self-serving. Their lives are forever changed when they encounter the Wise Woman, who undertakes to teach them virtue with an astounding balance of grace and truth. Firm and loving, the Wise Woman is everything a good parent could hope to be, and a refreshing portrayal of the Heavenly Parent of us all.
Related Audiobooks On Sale for $4.98 Moms Raising Sons to Be Men Holding On When You Want to Let Go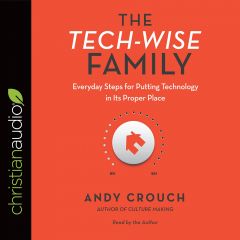 The Tech-Wise Family
Is this really free? Yes! We periodically give away one PREMIUM audiobook absolutely FREE. You will need to be logged into your christianaudio.com account and be subscribed to the newsletter. Just come back each month and confirm that you want the audiobook and it will be added to your library and be available in the christianaudio Android or iPhone App.
I want a backup in My Library and to get it in the christianaudio app! This audiobook will automatically be added to your library/app when you log in and confirm that you want the free audiobook each month
How does it work? It's as easy as following the simple process above. You will be asked to log into your account or create an account (it's fast and free). Next we'll check to ensure you're on our newsletter list and then the audiobook will be added to "My Library"! If you're not already subscribed to our newsletter, you'll be required to confirm your newsletter subscription before the audiobook can be added to "My Library".
We're often asked how one can make a donation to our free book program ...if you'd like to support our free download of the month program, you can do so by buying this month's free book at a discount through the end of the month or by sharing this page with your friends!